Benefits & Features
You can experience the benefits of SecureEPLS now, with an entirely free 15 day trial.
It will cost you nothing to find out how easy it is to stay compliant.
It could cost a lot if you don't!
START MY TRIAL

Reduce Risk
SecureEPLS offers staff compliance by screening against any of several Federal databases & ALL available State databases, and all data sources are updated regularly.

Save Time
Whether it's you or someone on your staff, time spent screening for exclusions is time not spent delivering care. We bring all of the data into one portal, and with batch reporting, scheduled reporting, and the optional "Exclusion Active Watch" we transfer the workload from you to SecureEPLS.

Ensure Compliance
The reporting in SecureEPLS makes exact matches easy to identify and research. All available data on a matched individual is returned directly in the reports making your vetting process much easier and quicker.

Save Money
Think about it: If SecureEPLS Reduces your Risk, Ensures your Compliance, & Saves you Time, it's a can't miss to save you money.

Check out our Plans and Pricing to see how affordable it really is.
Comprehensive Portal
One Portal! One place to go to access all exclusion database sources. Federal, State, and Special Lists, all included on one site. No jumping around. Pick the sources and screen one individual or business, or your entire list of individuals/vendors. One Portal at One Location & One Service. Easy!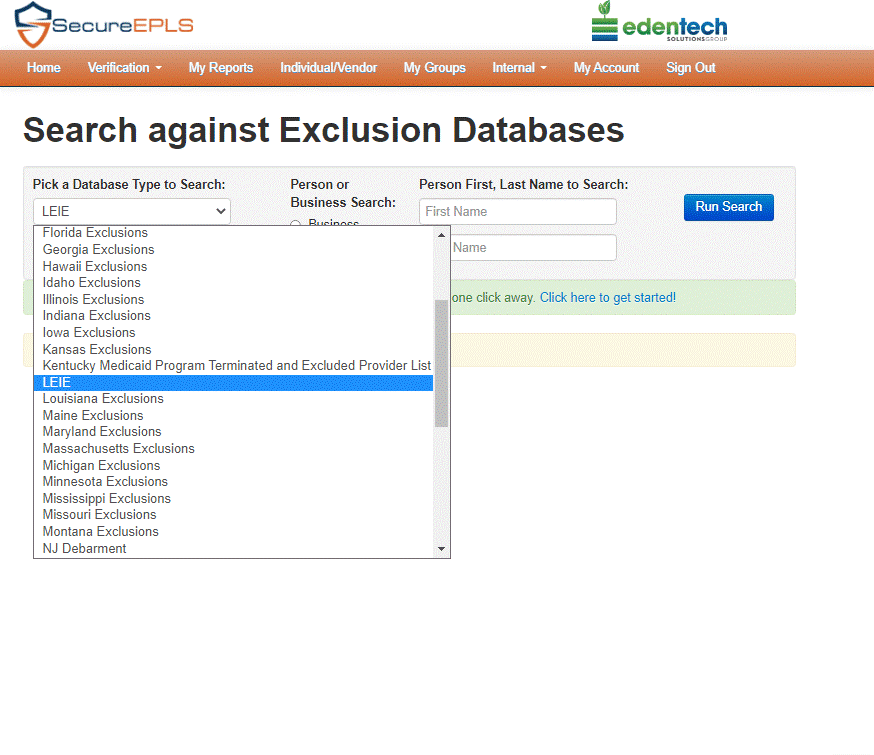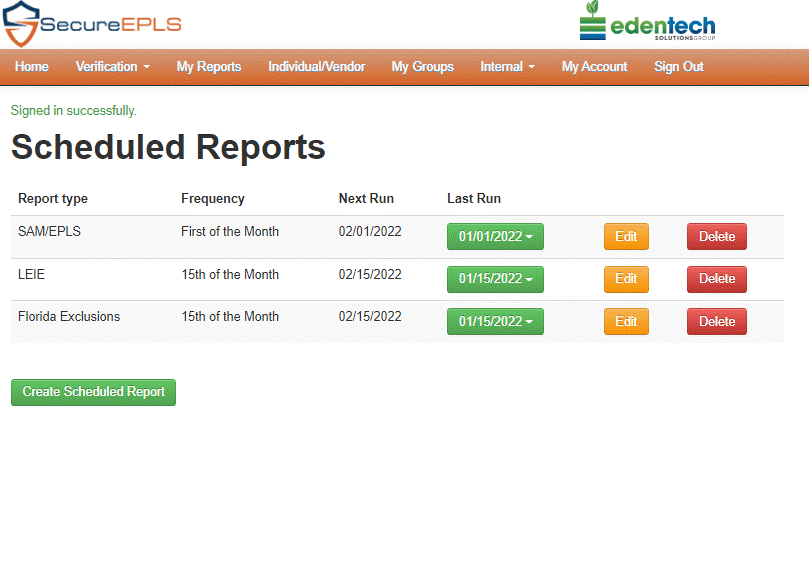 Autorun Scheduled Reports
Never forget to run your reports again. Set them up, pick the data sources, pick the cycle, and let SecureEPLS run your reports, save them for you, and notify you via email when they're ready. Saved online for you, forever! Easy!
My Groups
Grouping Feature adds flexibility to your screening jobs. Separate your providers by state, or by type, or by location, or any special grouping your business needs. And you can put providers into more than one group. Then when you run or schedule your reports, just select the group or groups you want included. Leave it blank and get it all. Again, added flexiibility made easy!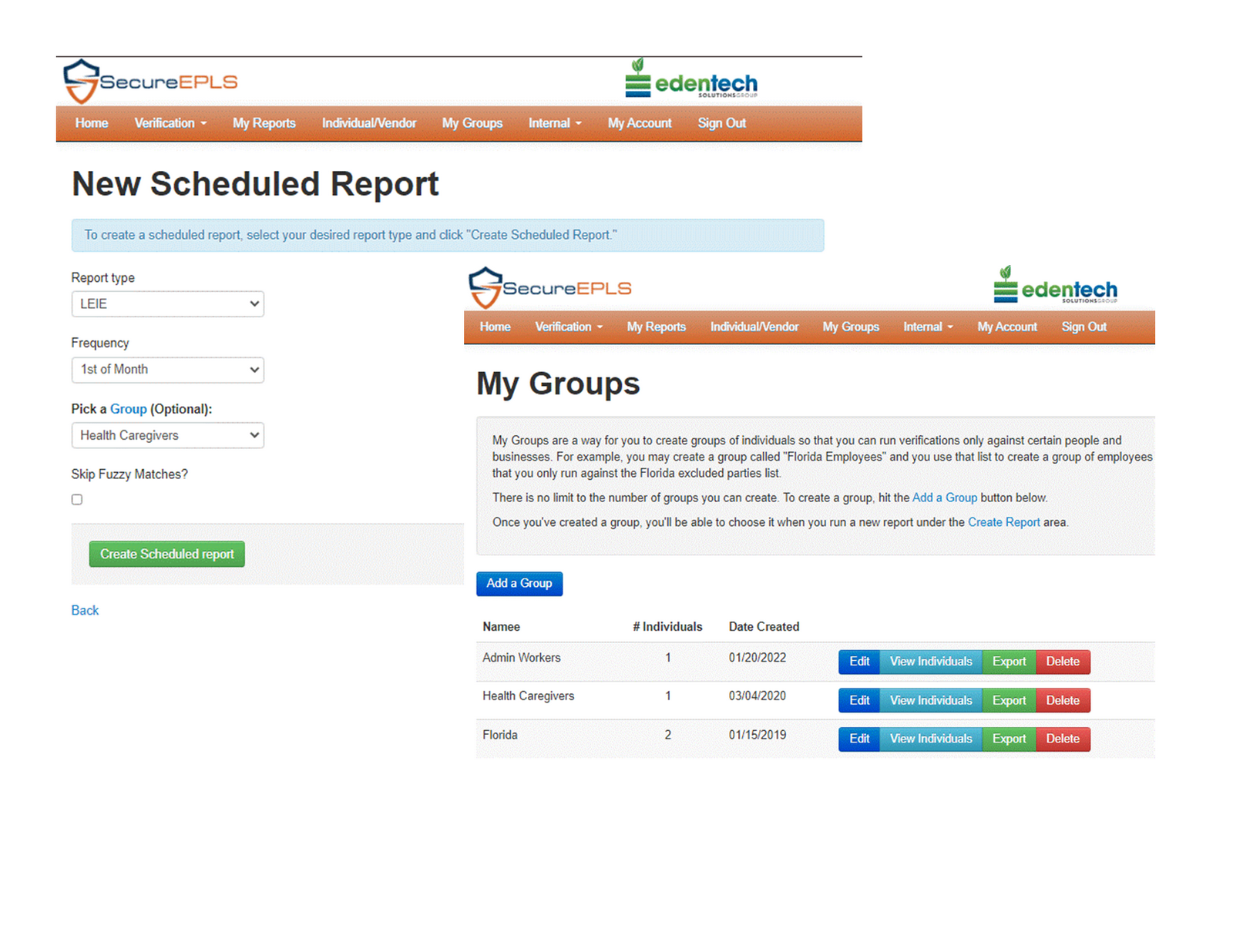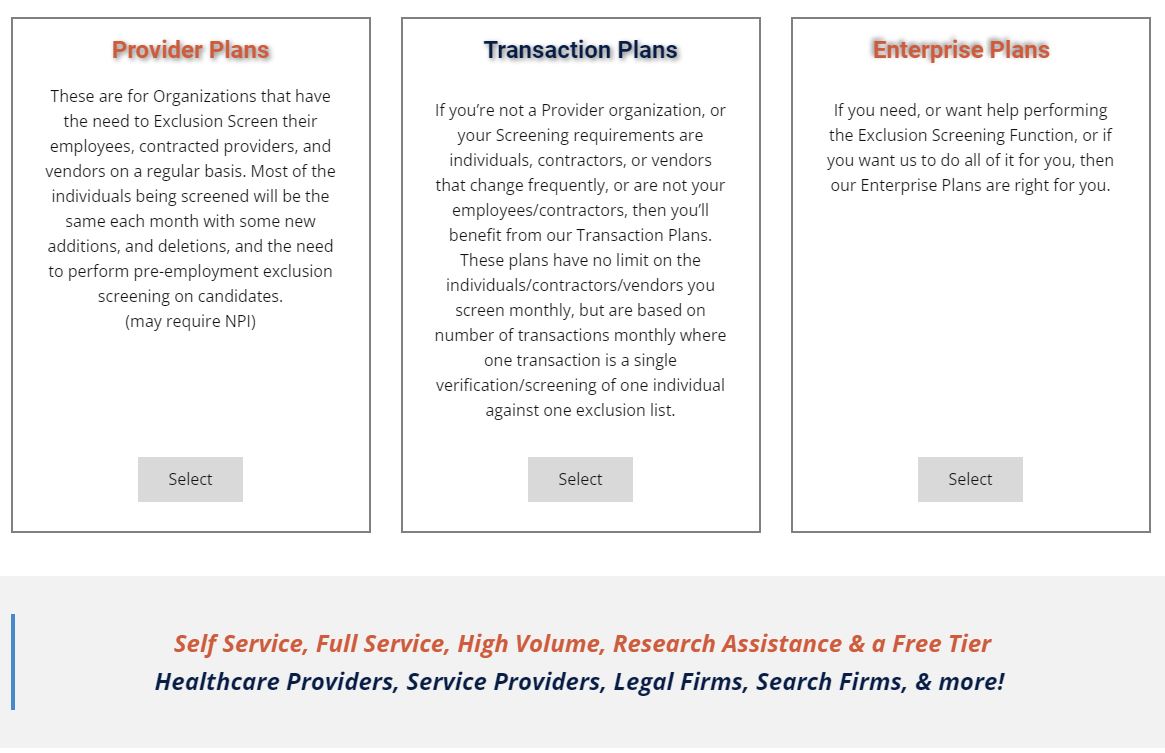 Plan Flexibility
SecureEPLS has a variety of plans specifically designed for either Provider, or Services Organizations. One size definitely does not fit all. So our plans are tailored to our clients.
Too large for a Self Service Subscription? No Problem! SecureEPLS has Full Service Enterprise Level Services

Too small to afford a Billable Subscription? No Problem! SecureEPLS has a Free Tier for the smaller Healthcare Provider Organizations.
Somewhere in between? No Problem!
SecureEPLS has 4 tiers targeted to Providers, 3 Tiers targeted to Service Organizations, & 2 High Volume Tiers.
We have you covered. Easy!
NonStop Protection
Do you need more protection than a monthly screening? Do you want a service that just runs with little to no manual intervention?
Do you want a service that alerts you only when there is a problem?
Our newest option

-
"AWES"ome
is the one you need.
A'ctive W'atch E'xclusion S'earch by SecureEPLS
Nonstop continual protection for those who care more.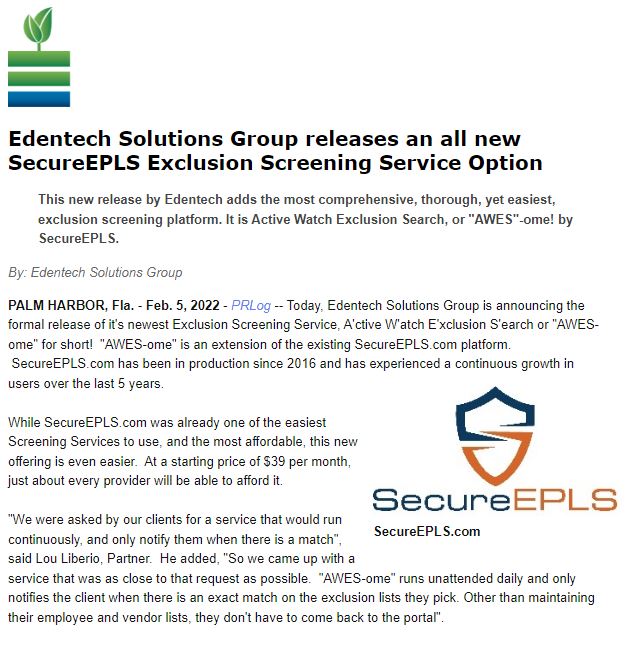 "This is by far the easiest exclusion screening software to use,
and the most affordable.....we've referred your service to others, often"
Director of Compliance
Homecare franchise owner
"​thank you so much – you are a great partner to have!"
Executive VP of Operations
National Physical Rehab & Pain Management Practice
Previous
Next
More Features
Web Access via the Internet 24 x 7 x 365 with over 99% uptime since 2016

Self Service Subscriptions
Most affordable service available with subscriptions starting as low as $11/mo.

Full Service Subscriptions
All you do is provide the list of individuals/businesses to screen. We do the rest!

Autorun Scheduled Reports
Let the system run your reports for you. Schedule as many as you need. SecureEPLS will run them and let you know when they're ready.

On demand screenings
Considering new hires? Screen them individually whenever you need. Web portal is accessible 24 X 7.

Groups Feature
Need to separate your individuals by location, specialty, etc.? Grouping feature allows it. As many as you need. You decide!

Online Report Retention
All reports are retained online forever making look back simple and quick. Great for that unexpected survey/audit.
Ready to subscribe?
Start your 15 day free trial now. Nothing to lose but a lot to gain. Learn why over 1000 organizations have used SecureEPLS to stay compliant.
Start Trail